Products
Superior Material & Quality System Ensured Reliability
Tested and certified by SIRIM to SS245:1995 for its physical, chemical, microbiology and cytotoxicity properties.

This Fibreglass Reinforced Polyester Tank is completely rust free, a factor which greatly improves sanitation. Thus it is safe for portable water storage designated for human consumption. Its non-corrodible properties greatly extend the life span of the tank and minimise maintenance.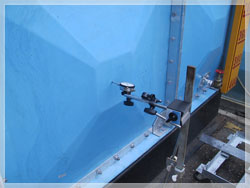 Innovative In Providing An Everlasting Water Tank System
It is assembly by connecting independent angular panel with bolts and reinforced by external and internal bracing.


It is modular that you can create the required capacity freely depending on the volume of water required and space available.


It is vigorously designed to withstand both hydrostatic and dynamic water pressure. Our designed safely factor bursting pressure exceeds six times its rated capacity.


High Pressure Hot Press Molding
Reliance Pacific FRP Water Tank panels are molded using High Pressure Hot Compression Matched Metal Mold method that gives good finishing and dimensionally accurate panels to ensure durable and long lasting tanks.


Material Finite Element Analysis
All critical components of Reliance Pacific Tanks undergo computerized Structural Non-Linear Material Finite Element Analysis at the design stage. Our design follows strictly to all Engineering Code of Practice applicable to Structural & Mechanical Disciplines.


Quality Control
Incoming Material Inspection is conducted to examine all incoming materials for transit damage or completion. An evaluation and preparation of the related test/inspection report is then made, qualifying or rejecting the materials on the basis of that conclusion.

In-process Product Inspection monitors and controls the quality of parts, components and sub-assemblies throughout the various intermediate steps involved in the development and manufacturing process.

All finished products will be presented for inspection or test using applicable inspection instructions, drawings, specifications and other appropriate reference materials.

Installed Tank Inspection scrutinizes conformance of specifications, workmanship, physical and functional characteristics, damages, deteriorations and the proper markings on the tanks and assemblies.